Dear Candidate, 
Your CFA® Program exam is approaching quickly. Be prepared by printing your admission ticket now, reviewing it for accuracy, and keeping it safe until exam day on Saturday, 23 June 2018. 
1.Log in to access your exam admission ticket.
2.Review your ticket and passport. You must present your valid international travel passport during check-in for both sessions on exam day, as outlined in the Identification Policy. The last four digits of your passport number, the name, and the expiration date on your passport must exactly match the information on your ticket. If your passport information does not exactly match the information you have provided to CFA Institute, update your CFA Institute account (PDF) immediately. Carefully read the instructions at the top of the form.
3.Check your test center location and address. Special instructions regarding directions, parking, lunch options, and other details about your test center can be found here. Please familiarize yourself with your test center location and the time of your test. Plan your route in advance to ensure a smooth exam day experience.
4.Print your ticket. The ticket must be printed on clean, unused paper. Do not write on it. Please bring your ticket with you on exam day. You will NOT be admitted into the testing room without an admission ticket.
Admission tickets are not yet available for the following test centers, but will be in the coming days: 
    • Birmingham, AL
    • Bogota, Colombia
    • Buenos Aires, Argentina
    • Honolulu, HI
    • Providence, RI

Please contact us if you have any questions about our identification policy.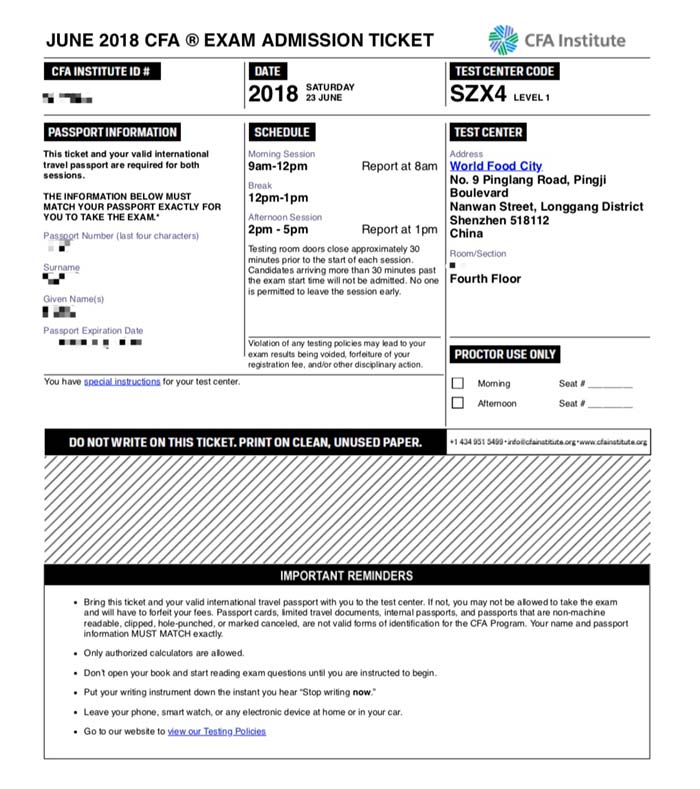 准考证就长这样, 邮件中主要 提醒 Candidate 要核对护照是否在有效期内, 如果需要更新姓名, 考场等尽快联系 CFA Institute. 打印出来发现我所在的考场在SZX4远在龙岗万国城, 最近的地铁貌似还有4公里. (扶额! 我能怎么办, 我也很绝望啊!) 准考证上面有一个座位号, 应该是考试当天考官来填写, 下面特别提醒了 不要在准考证上涂写. 否则后果会比较严重~
Test Center
World Food City
Special Instructions
June 2018 CFA Exam
Transportation and Getting to the Venue
There are five venues in Shenzhen for the June 2018 CFA exam. Please make sure you review your admission ticket carefully and report to the venue indicated on your admission ticket. Take subway Line 3 and get off at Dafen Station, then transfer by bus K359 and get off at World Food City Station, or transfer by bus 322 or M300 and get off at Jinjijia Kejiyuan Station. For more information on the venue, please visit the venue website.
Parking
World Food City has 1,500 complimentary parking spaces. This offer is subject to change without notice.
Personal Belongings Area
Enter the venue via South Gate and proceed to the personal belongings area in the atrium on the first floor. Follow the instructions of hallway proctors and signs in the foyer area on the first floor.
Candidate Entrances to Testing Rooms
Candidates should proceed to the assigned sections for check-in through the corresponding elevators/escalators listed below.
Sections 101-116: take escalator to the fourth floor.
Sections 117-129: take elevator 17, 18, 19 and 20 to the fourth floor.
Check-in Times
The check-in process will start at 7:45 a.m. for the morning session and 1:00 p.m. for the afternoon session.
Toilet Breaks
CFA Institute asks that candidates not take toilet breaks during the last ten minutes of each session.
Lunch Break
Lunch concessions will be available in the atrium on the first floor. Candidates may purchase a boxed lunch and eat in the area. The concession stands will be open between 12:00 p.m. and 1:15 p.m. on Saturday, 23 June 2018.
看了一下这个考场的介绍, 万国城考场(深圳龙岗)是一个非常开阔的场地, 有扶梯和垂直电梯, Section117~129的考生乘垂直电梯到4楼. 上午场7:45就开始签到了, 下午场1:00开始签到. 午饭可以在1楼专门区域吃盒饭.

特别提醒: 考试结束前10分钟内禁止上厕所, So 要上厕所可以提前或者在考试中间时段上厕所. 所有人都必须等考试时间截止, 并收完试卷方可离场.
Typical Exam Day Schedule
Activity Morning Session Afternoon Session
Candidates begin check-in process. 8:00 a.m. 1:00 p.m.
Doors close and announcements begin. 8:30 a.m. 1:30 p.m.
Timed session begins. Candidates must remain in the room. 9:00 a.m. 2:00 p.m.
Timed session ends. Candidates must remain seated until dismissed. 12:00 p.m. 5:00 p.m.
Exam Day Logistics
Bring your valid international travel passport, your exam admission ticket, an approved calculator, and No. 2 or HB pencils (or pens, for Level III).
Dress comfortably and wear soft-soled shoes to keep noise in the testing room to a minimum.
Check-in and find your seat before testing personnel close the doors. If you arrive more than 30 minutes past the start of a timed session, you will not be admitted.
You are not permitted to leave either timed session early.
If you don't sit for the morning session, you can't sit for the afternoon session. You must sit for both sessions or you will not receive your exam result.
Listen for testing personnel to give you instructions, such as when you can open your exam book, when to sign the candidate pledge, and when you must stop writing. Writing past the stop time is one of the most common reasons CFA Institute has to void a candidate's exam result.
View all CFA exam policies
Learn more about exam-related disciplinary actions
Testing Rooms without Clocks
In testing rooms that do not have clocks, the timekeeper will mark time remaining on a chalkboard or flip chart in the following increments.
Every 30 minutes:
Less than 2.5 hours remain
Less than 2 hours remain
Less than 1.5 hours remain
Less than 60 minutes remain
Then every 15 minutes:
Less than 45 minutes remain
Less than 30 minutes remain (verbal announcement)
Less than 15 minutes remain (verbal announcement)